AN/URR-74(V)
The AN/URR-74(V) is a militarized version of the WJ-8718A. The most notable difference are the different signal strength meter and the running time meter on the front panel (see below). These radios were widely used by the Navy for shipboard communications.
back to top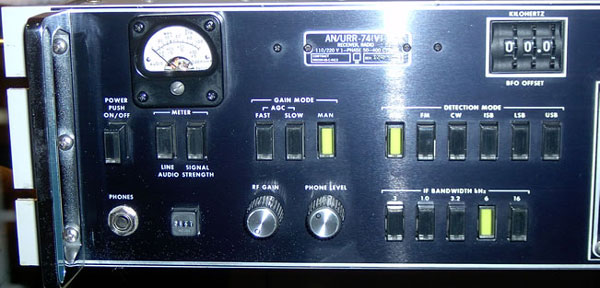 AN/URR-74(V) front panel left side
The two meters on the left edge of the front panel distinguish the AN/URR-74(V) from the other version. The upper meter is for signal strength or audio level. The lower, digital meter by the phone jack is a running time meter.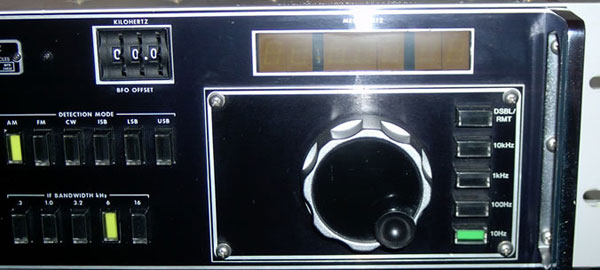 AN/URR-74(V) front panel right side
The rest of the front panel is almost identical to the WJ-8718A. The standard IF bandwidths are 0.3, 1, 3.2, 6 and 16 kHz. The radio has USB and LSB filters and ISB mode as standard features.
AN/URR-74(V) inside

Internal construction is identical to the WJ-8718A. The card cage construction makes for easy servicing. Each radio originally shipped with two extender cards, usually stored in open option slots.
AN/URR-74(V) rear panel

The back panel has different connectors for the audio, power and antenna and uses different fuse holders. Note the use of a single military connector for all the audio (in the middle), and the waterproof fuse holders (for corrosion resistance).