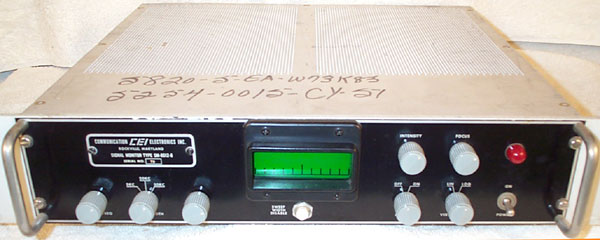 This is a Communications Electronics, Inc SM-8512-6 signal monitor (SM). It was designed for surveillance use with the Collins designed R-390(A) series of radios. It came with instructions for modifying the R-390(A) for wideband IF output. This unit has a 455 kHz IF and can display 5, 20 or 50 kHz of the spectrum. It uses nuvistors throughout the signal chain and a few early germanium transistors in the power supply.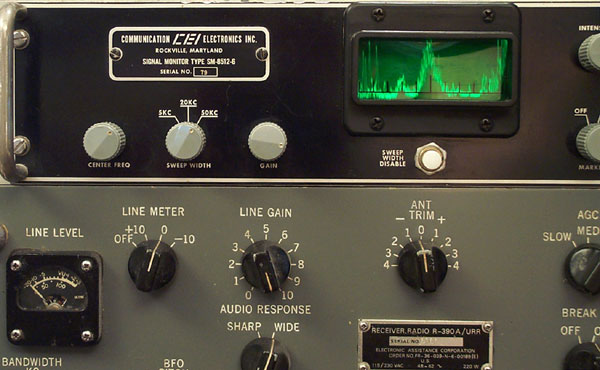 To properly use an R-390 radio with this analyzer, a pre-IF filter output must be installed. CEI provided detailed instruction in the SM instruction manual. It makes a wonderful addition to the R-390 radio and is probably one of the rarer accessories.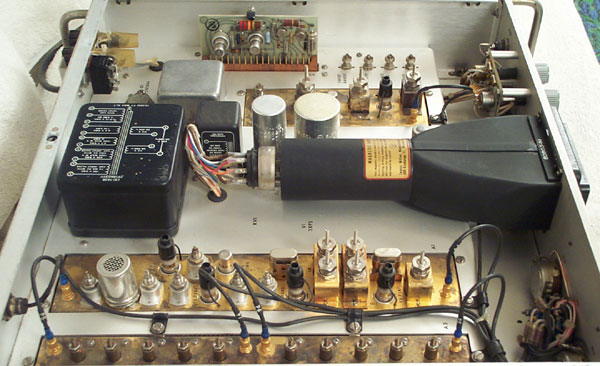 Construction on early CEI equipment set new standards in radio design elegance. From the gold subchasses and minaturized circuits using nuvistors to the clean layouts and efficient designs, CEI equipment broke the "heavy iron" mold that characterized most radio equipment produced for governmental agencies. This quality of construction of elegance of design continue to this day under the WJ name.
The government purchased an unknown quantity of these SMs for three branches.
| | | | | | | |
| --- | --- | --- | --- | --- | --- | --- |
| CEI model | Nomenclature | NSN | Buyer | Contract | Notes | Date |
| SM-8512 | IP-861/URR | 5820-00-105-3064 | Air Force | F41621-73-C-0075 | | 2-73 |
| SM-8512-1 | | | | | IF changed to 5.94 MHz | |
| SM-8512-2 | | | | | input for two receivers | |
| SM-8512-3 | | | | | special color front panel, rack slides | |
| SM-8512-4 | IP-866/URR | 5820-00-933-7909 | Navy | NOM73611 | modified for use with R-390A, quick disconnect power connector, input for three receivers | 7-66 |
| SM-8512-5 | none | none | NSA | DA18-119-AMC-03432 | gray front panel, input for two receivers, built for Sylvania | 1-67 |
| SM-8512-6 | | | | | zero span push button added | |
| SM-8512-7 | | | | | IF changed to 370 kHz | |
| SM-8513 | | | | | dual 8512 designed for use with R-390 | |